Hurricane Maria wiped out Puerto Rico, but the financial impact on Medtronic Plc was a lot lower than the medical device maker anticipated a month ago.
The storm, which shut down four manufacturing facilities on the island in September, trimmed sales by about $55 million to $65 million in the second quarter ended Oct. 27, Medtronic said. That's about a quarter of the potential $250 million impact the company initially anticipated.
Medtronic, one of the global corporations most exposed to the storm's might, credited its employees for quickly minimizing the financial damage. The manufacturer, which employs more than 5,000 people in Puerto Rico, said it is prepared for full, sustained operations on the island. It continues to provide food, water, temporary housing, medical and child care and other services to its workers.
"Our employees in Puerto Rico made countless selfless contributions, despite extensive impact to their personal lives, coming to work every day to ensure customers and patients worldwide received our products," Medtronic Chief Executive Officer Omar Ishrak said in a statement Wednesday.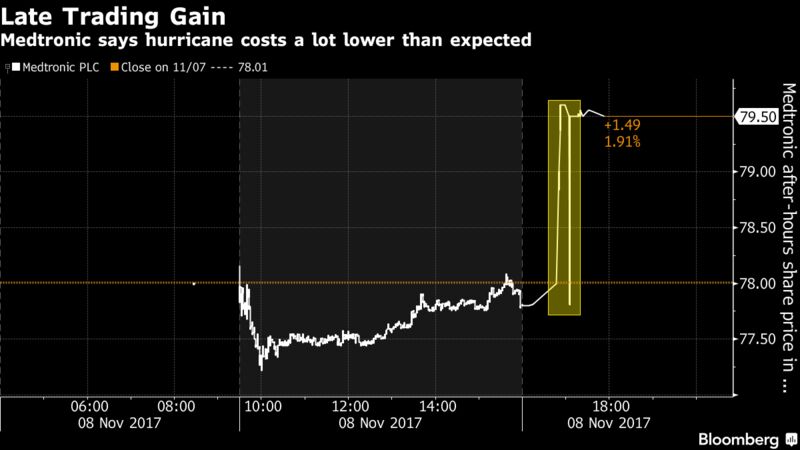 Medtronic also released preliminary results for the quarter. Revenue dropped 4 percent to about $7.05 billion from a year earlier, beating the $6.87 billion average estimate from analysts gathered by Bloomberg. Excluding the impact from currency and divestitures, sales rose 3 percent. Without Hurricane Maria, they would have grown 4 percent, the company said. 
Adjusted earnings were flat to slightly up compared with $1.04 a share a year earlier, the company also said. Medtronic, based in Dublin and run from Minneapolis, will release full quarterly results on Nov. 21.