The coal industry suffered a major blow on Wednesday when the utility giant Southern Company abandoned work on its troubled Mississippi clean coal facility amid skyrocketing costs.
The Kemper County Energy Facility, conceived under President George W. Bush, promised to turn coal into cleaner-burning gas and provide a model for the future of coal. But after 11 years and $7.5 billion, the plant failed to produce commercially viable technology.
Last week, Mississippi utility regulators offered Southern Company an ultimatum. The firm could continue experimenting with gasification, and risk losing $3.4 billion as the power board rejects a hike to the rate paid by the 187,000 customers who get power from Kemper. Or it could convert the plant to natural gas. The Atlanta-based utility, which began burning gas in 2014 to generate power amid delays on its coal conversion technology, chose the latter.
We believe this decision is in the best interests of our employees, customers, investors and all other stakeholders, Southern Company CEO Thomas Fanning said in a statement.
The move is an ominous bellwether for a heavily polluting industry that collapsed over the last decade as natural gas, made cheap by new drilling techniques, devoured coals share of the electricity market. President Donald Trump has promised to bring coal roaring back, vowing it will be beautiful, clean coal a feat already attempted by Bush and President Barack Obama.
Its unfortunate, Betsy Monseu, chief executive of the American Coal Council, told HuffPost on Thursday. It was the flagship project, theres no doubt about that.
In 2006, when the Kemper plant was announced, the high cost of natural gas and renewable energy kept so-called king coal firmly enthroned. But breakthroughs in hydraulic fracturing, or fracking, sent gas prices plummeting, and advancements in wind turbines and solar panels, cheaply imported from China, made renewable energy more affordable. With energy companies under growing pressure to reduce planet-warming emissions, coal became the least attractive option.
This is a really bad sign for the future of coal projects in the United States, Nicholas Steckler, a U.S. power analyst at Bloomberg New Energy Finance, told HuffPost. There are plenty of reasons today not to build a coal plant, and plenty of reasons why gas wins out as a technology today.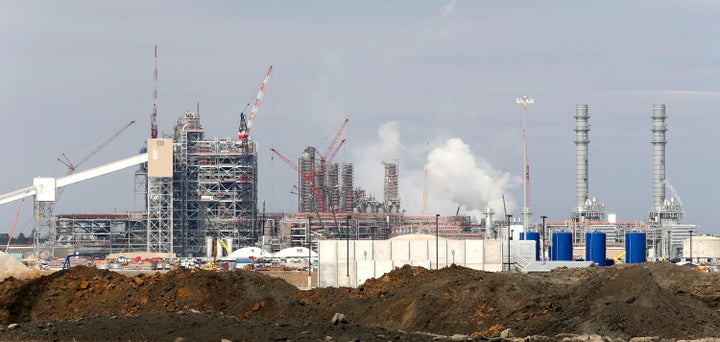 The cost alone may be the most significant concern. The 580-megawatt Kemper plant had originally projected costs of$2.9 billion. After repeated setbacks, that figure ballooned to $7.5 billion. At that price, the utility could have built a gas-fired plant with 10 times the capacity.
In the end, theyre just going to burn gas anyway, Steckler said. To put that in context, with $7 billion, you could expect to get somewhere around 7,000 megawatts of gas capacity.
If clean coal sounds like a contradiction, it may be because the roots of the term are political, not scientific. Google searches for the phrase tend to spike during presidential election years. It surged into the popular vernacular in October 2008, one month before Obama was first elected president. Obama made clean coal a cornerstone of his efforts to cut planet-warming emissions and stem the worst effects of climate change while appealing to coal-country voters. In 2010, he launched his first effort to, as The New York Times put it, prove that clean coal was not an oxymoron.
The problem is that the process known in the industry by the more prosaic name carbon capture and sequestration, or CCS only captures some emissions, and ignores the other forms of pollution that come from the process of producing coal.
"Clean coal" is only clean in a very narrow sense of the word, in that its capturing its air pollutants and its carbon. Daniel Cohan, climate scientist at Rice University
You still have the coal mining, the impacts on streams, the diesel trains needed to transport the coal and the coal-ash waste that comes from this, Daniel Cohan, an energy expert and climate scientist at Rice University in Houston, told HuffPost. Clean coal is only clean in a very narrow sense of the word, in that its capturing its air pollutants and its carbon.
Still, there has been some limited success. Kemper may have been the first major carbon-capture plant attempted, but another, using different technology, broke ground in 2014. In January, the worlds largest facility for capturing emissions from electricity generation started operating in Texas. Unlike Kemper, which was supposed to generate electricity by burning gas chemically produced from coal, the $1 billion Petra Nova station functions as a traditional coal-fired plant, with the twist that it captures the carbon dioxide emitted by burning the fuel.
Another key difference: Petra Nova finished on time and on budget. The facility covers its costs by pumping captured carbon dioxide to a nearby oil field, where its used to recover crude in the nearly exhausted wells. Energy Secretary Rick Perry hailed the project, which beganunder Obama, as a major achievement.
Despite deep cuts proposed to the Energy Departments budget, particularly its renewable energy program, the agency said it would continue to invest in so-called clean coal, and pointed to Petra Nova as a success.
[Carbon capture] is part of a path not only to energy security, but to business development opportunities for entrepreneurs, the global competitiveness of U.S. based firms, and more jobs for American workers, a spokeswoman told HuffPost in an emailed statement. Its working now and on a commercial scale.
She indicated, however, that the federal government should play a smaller role in future large-scale projects like the Kemper plant.
DOE considers these large scale pilots to be lower technical risk and therefore appropriate for industry to support this level of development since they have a potential near-term deployment opportunity, she said. Thats why the Presidents budget request calls on DOE to focus its efforts on early-stage R&D which is the most appropriate role for the Federal government.
But the conditions that make Petra Nova affordable arent easily replicated. The plant, a joint venture of power giant NRG and Japans JX Nippon Oil & Gas, had a large grant from the Department of Energy and lined up a lucrative contract for a stake in the oil salvaged using its captured carbon dioxide. That deal came at a time when oil sold for over$100 per barrel. Oil prices nosedived in mid-2014, and seem unlikely to rally any time soon.
There you had very specific conditions, Cohan said. Other plants arent going to get nearly as much value for their carbon capture, so the economics dont work out.
Passing policies that make it more expensive to pump carbon dioxide into the air could change that, he said. But Republican lawmakers and big oil companies tanked a proposed cap-and-trade system, in which companies could buy and sell permits to pollute, in 2010. Putting a tax on carbon is another option one more popular with economists, who say it would provide more certainty in the market. A plan for a $40 carbon tax, proposed by two GOP elder statesmen, won the support of big oil firms including Exxon Mobil Corp. and Royal Dutch Shell earlier this month. But the Trump administration has said it wouldnt support a carbon tax, and the policy seems unlikely to gain traction in Congress.
These technologies are looking increasingly too expensive to pursue in the United States, Steve Piper, director of energy research at S&P Global Market Intelligence, told HuffPost. Proponents of clean coal really have to go back to the drawing board.